The number of followers you have on Twitter does not only serve as your vanity metric on social media. Therefore, exerting effort in increase Twitter followers is a must. It is not complicated to use, and you can easily increase your followers. Aside from indicating your influence in your industry, it also shows how much interest your audience, customers, and leads have in your content. In trying to engage with customers, almost half of the online marketers rely on Twitter.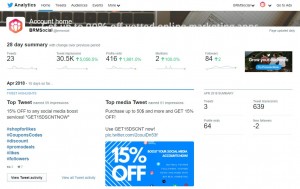 Top Tricks on How to Increase  Twitter Followers
Compared with Instagram or Facebook, you need to be more aggressive in publishing content. The average number of tweets you need to publish in order to encourage engagement is 3 to 5 each day. There are some accounts that tweet 15 to 20 times, so it all depends on how you analyze your competition.
However, do not tweet just to promote yourself or your brand. There are many other ways to make your content interesting. Some of these include retweeting from your followers, linking relevant articles, and posting personal updates. When you fill your account with fresh content, you can attract more potential followers.
It is because they can see that you are engaging and active.
There are many programs that help you schedule your content on social media. Thus, you can regularly post without having to do it in real time.
In general, the best time to post on social media is during the early or late afternoon on weekdays. This is because most engagement can be seen during these times. Although it all depends on your target audience and time zone, knowing the proper timing to tweet is one of the keys to get the exposure you need.
Getting more followers does not necessitate focusing on your account 8 hours a day. You just need to know when your audience is most active. It is also advisable to post in real time from time to time during the day.
Learn when to tag, reply, and retweet
You do not need to devote much of your time on Twitter. What you need is to make the most out of this social media platform. It is effective to schedule your tweets, but you should make sure that your account does not look like it is updated by bots.
To avoid this, tagging, replying and retweeting the soonest possible can make your potential followers see that you are actually human. Tagging other accounts in your industry and retweeting can help you reach out to more followers. In responding to other users, you can gain more attention by making a response that is thorough and detailed.
Conclusion
Finally, increase twitter followers does not happen by luck. You need to think about your content, engage other users, and work on your profile so that you can entice more followers.
If you have no idea on how to start gaining followers, you can follow the steps given. These will not take much of your time and effort, but you will definitely see a difference.