Determining the best app for managing your social media should be fun and easy. Before jumping into conclusions after checking on the next trendy social media management tools, make sure you ask yourself the right questions.
What network will I be posting to?
HootSuite is a popular, social media management tool, but it only posts to Facebook, Twitter, Instagram, Google+, YouTube, and LinkedIn but not Pinterest. Nonetheless, if you need Pinterest management, you'll need to choose a suite that includes it (like Buffer) or a standalone Pinterest tool (Tailwind).
If you're planning to channel your post to other network, make sure you know what these are and determine its restriction. The more networks you can post to, the better.
What features are important to me?
This is basically one of the most important questions. Most apps share the same feature, however, their distinct feature is most likely the reason why pick them. Before you choose a tool, you need to sit down and figure out what you want it to do. From there, you can narrow down your possible options based on their features and functionality.
What type of demographic will do I want my posts to be shown to?
The Internet offers thousands of apps which we can linger on, but people share a common taste and interest at some point.  If you know what type of demographic you wish to focus your posts on but doesn't know where they normally reside, then you might as well wanna check What does your Social Network say about you.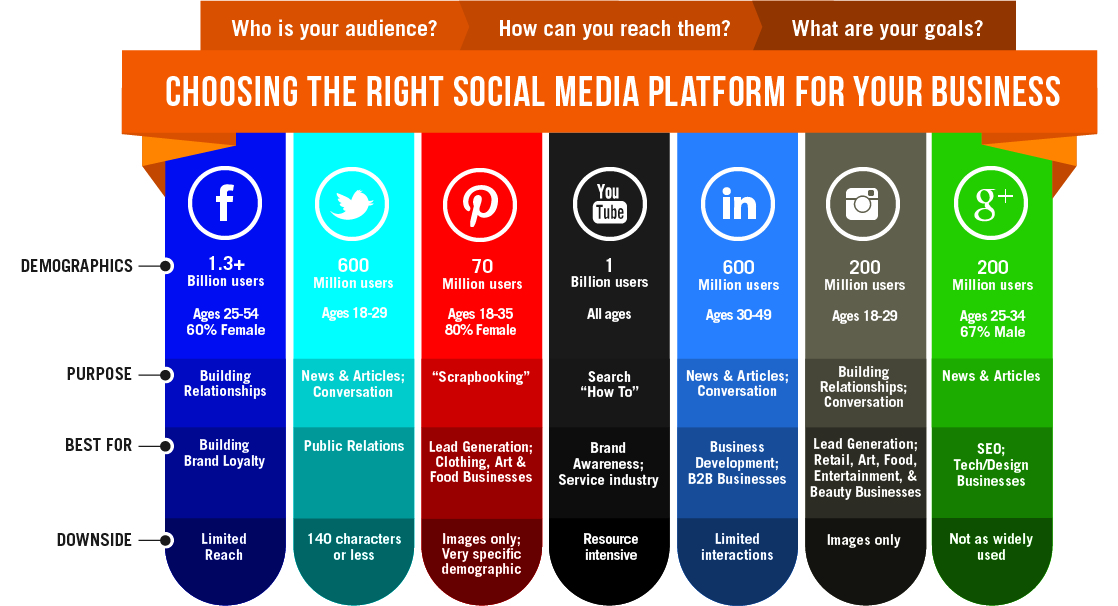 So how do you define your target market?
Figure out not only who has a need for your product or service, but also who is most likely to buy it. Think about the following factors:
Once you have your benefits listed, make a list of people who have a need that your benefit fulfills. While this is still too general, you now have a base to start from.
How often will I be posting?
You might want to take a look at this article.
According to research, this is the best practices for when and how many times to post on Social Media.
Twitter – 3 times per day or more. Engagement decreases slightly after the third wheel.
Facebook – 2 times per day at most. Two times per day is the best level before likes and comments begin to drop off dramatically.
LinkedIn – 1 time per day. Twenty posts per month (1x per weekday) allows you to reach 60% of your audience.
Google+ 3 times per day at most. The more often you post, the more activity you'll get. Users have found a positive correlation between frequency and engagement. When posting frequency wanes, some have experienced drops in traffic up to 50%.
Pinterest – 5x per day, or more. The top brands on Pinterest have experienced steady growth – and in some cases rapid or sensational growth! – by adopting a multiple-times-per-day posting strategy.
Instagram – 1.5 times per day, or more. Major brands post an average of 1.5 times per day to Instagram. There's no drop-off in engagement for posting more, provided you can keep up the rate of posting.
What can I afford?
Yes, it's true. Most application is downloadable and free for use. However, if you have plans to conduct a campaign in the long run, then it's highly important to consider your budget. Always consider the amount of money you are willing to spend before making further decisions with regards to managing your social media.
Being able to identify the perfect app that suits your specifications in managing your social media is takes analysis and a few notes. The best social media apps offer a range of solutions that can help you easily organize multiple accounts and share information across several social networks without ever needing to post anything separately to your accounts directly from the web.