The Most Reliable Place to Buy Vine Followers
Live Customer Service to Help You 24 Hours a Day, 7 Days a Week.
BEST SELLER
Increase real followers on Vine today
The Vine app can be used on iPhone, iPod and now the Android version is also available. If you are an aspiring brand, artist or business person and want to make yourself a little more famous, buy the vine followers package from and let's get you noticed.
How does Buying Vine Followers work?
Select your Package
Send us your Vine info
Keep adding great videos
What your Vine audience grow
Take your personal or business Vine account to the next level.
Purchasing real Vine followers is the best way to kickstart your Vine audience, fast!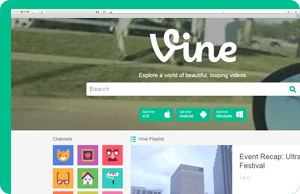 At Buy Real Marketing we take pride in being able to promote Vine accounts to hundreds and even thousands of Vine users. We can supply a quality flow of Vine followers to your account in a safe and effective manner to kickstart your personal profile on Vine. Buying Vine followers from us is a must. Get started with one of our premium Vine follower packages above.
What is Vine anyway?
In January 2013, Vine launched a cool new application that allowed regular video users to shoot and share 6 second long looping videos. Strange but popular nonetheless. The interface was simple and Vine got traction very quickly, spurring it to the top of a heavily competitive mobile video sharing app market. More and more brands are beginning to use Vine as a new social media marketing tool. The Gap, Urban Outfitters, MTV Style, Rolling Stone, General Electric and Adidas are just a few of the brands already using Vine in just the two months since its launch.
Why would I buy Vine Followers?
Vine isn't only a simple video sharing app. Vine is now becoming a major medium for personal brands, business brands and individuals to promote their video creations with the world. Each short video created plays in a continuous loop and is viewable directly in Vine's timeline. If you have a healthy flow of Vine followers to share your Vine videos with then you are off to a great start. If, which is more often the case, you'd don't have, then to kickstart your Vine account you would be better off buying Vine followers to save time and get started quickly. You never know who's going to follow you, like your videos or even re-vine your awesome looping cat videos.
Is Vine a good fit for your company or personal brand?
Keep in mind that with Vine, companies have the ability to capture and share life in motion. If used correctly, this 6 second video app can be highly effective for promoting and enhancing your company's social media presence.
We'd love to see some examples of your favorite Vine videos. Please share with us and we can feature your profile to our audience as well.
What do I do after buying Vine followers?
So you are ready to buy Vine followers, then what? The first step is to create authentic and engaging content. Once this is done, Vine is an ideal platform to promote and share your video. Here are a few things to remember when working on your Vine network after getting a few hundred followers: Use Time Lapse, Show your brand's personality, tease new content, use hashtags and spend 30 minutes a day sharing and promoting other people's Vine vids.
HAVE QUESTIONS? NEED HELP?
Give Us a Call